We try to reach out to parents and educators in states where a presidential candidate is serving as governor.
This time we heard from Sue Ann Penna from New Jersey who contacted us with information on Governor Chris Christie.
Governor Christie fully implemented the Obama/federal education reforms. Since then parents and educators have been fighting the federal reform in their local schools.
Here is a recent post by Sue Ann Penna from New Jersey:
After 5 years of defending Common Core, on May 28, 2015 Christie announced the end of the existing Common Core standards in New Jersey and has suddenly decided they are not working. Prior to this announcement, he stated, "This is one of those areas where I've agreed more with the president than not" and called any Republican opposition to Common Core a "knee-jerk reaction … that if the president likes something, the Republicans in Congress don't."
But have they really ended?
The outcome of the May 28th announcement is that he directed the NJ Dept of Education to convene teams of NJ educators and parents to conduct a review of NJ's previous standards to consider recommending changes that make NJ standards higher and NJ based.
A report was supposed to be available the end of 2015, but according the DEP website, it will not be available until January 2016. http://njstandardsreview.statestandards.org/
The reality is that although the Governor said he was ending Common Core, I can assure it has not ended.
How can he claim to end common core with no replacement in place and ready to be implemented?
Here is a link to a welcome letter from a principal to parents at Oak View Elementary School in Bloomfield, NJ. It states very clearly that
"At Oak View, our curriculum is aligned very closely with the Common Core Content Standards, teaching Language Arts, Math, Science, Social Studies, and Health."
http://oakview.bloomfield.schooldesk.net/Portals/Bloomfield/Oakview/docs/Welcome%20to%20Oak%20View%20School.pdf
The other curious point about this big announcement is that Christie also stated that NJ would continue PARCC testing, even though the tests are common core aligned.
If PARCC testing is not ended, how does Common Core end in NJ?
The May 28, 2015 press conference was a lot of words with no substance. You can read the entire text or watch the video and clearly see Common Core is alive and well in NJ and Christie has not ended it.
Again, Common Core would have been ended if he said, "we are ending common core and returning to a classical education model." But claiming to end it and only offering up a commission to study a replacement does NOT constitute ending Common Core. Setting up a commission is just a way to toss the can down the street and make it seem like you are doing something, when in fact, you are doing NOTHING.
https://www.washingtonpost.com/news/answer-sheet/wp/2015/06/10/gov-chris-christies-curious-plan-to-dump-the-common-core-but-keep-the-core-test/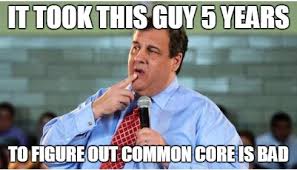 THE BOTTOM LINE PARENTS, IF GOVERNOR CHRISTIE IS WILLING TO MISLEAD PARENTS IN NEW JERSEY, THEN HE'S CAPABLE OF MISLEADING US. TELL GOVERNOR CHRISTIE TO GO BACK TO NJ AND FIX THE MESS HE HELPED TO CREATE. THE PARENTS IN NJ DESERVE IT!!!