NH Listens, the PR firm of the Carsey Institute, will attempt to co-opt educational decisions in these towns and cities on the following dates. Please read on below for WHY you must attend if you live in any of these towns.
Wednesday, May 6, 2015 – Berlin, Laconia, Nashua
Thursday, May 7, 2015 – Manchester, Pittsfield, Plymouth
Tuesday, May 12, 2015 – Keene, Lancaster, Portsmouth
Wednesday, May 13, 2015 – Concord, Lebanon, Rochester
Register here: http://nhlistens.org/when-opportunity-stops-knocking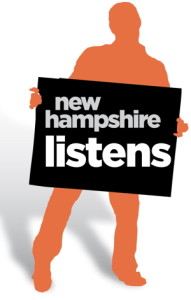 Has your school district already voted down all day kindergarten, a new school, or some other unneeded venture that would increase taxes?
The latest ploy is that when the outcome of the vote at school meeting is unacceptable to the government, a PR firm will be called in. One of those PR firms is NH Listens, an extension of the Carsey Institute, a left-leaning foundation based at UNH.
When NH Listens invades your town, they will conduct "Listening Sessions" to revisit things you the voters have ALREADY VOTED DOWN at the normal town or school meeting. These sessions are not widely advertised and only a few actual citizens attend. The rest of the attendees are stacked with those who represent special interest groups, usually from outside the state.
The group will then undergo the "Delphi Technique" whereby they will be put into smaller discussion groups each led by a facilitator who will steer them into the "correct" conclusions. This has been done in the Winnisquam school district with all day kindergarten.
Rep Hill on Winnisquam Regional School District:
http://www.laconiadailysun.com/index.php/opinion/letters/65098-we-don-t-need-outside-group-trying-to-help-wrsd-officials-get-around-2012-kindergarten-vote
More on NH Listens and Hill's full letter here:
http://www.nhteapartycoalition.org/tea/2013/02/16/sustainable-tyranny-spreads/
The above listed NH Listens sessions are being advertised with the note that "Research from the Carsey School and other sources will help frame the discussion." If you do not want some special interest "framing the discussion" to help a very few people make decisions that will affect your taxes, you'd better attend and make sure the only thing suggested is that they need to return to academics and keep the fads and social justice nonsense OUT of our public schools.