Governor Jeb Bush came to New Hampshire a few weeks ago and told us why we should support the re-authorization of No Child Left Behind NCLB. Many teachers and parents were shocked to learn the Governor not only supports the Common Core Standards in our schools, but now he's trying to get us to support re-authorizing No Child Left Behind.
At what point do we say, he's out of touch? Did he even read HR5 for instance? All 600 pages PLUS? And if so did he read about the many problems in the Bill that will continue to plague our local schools?
How can Jeb Bush ever be trusted as President if he is that out of touch with the parents in New Hampshire who've had to endure the failures of No Child Left Behind and the current problems with Common Core?
To make matters worse, now the NEA is teaming up with Governor Bush to push for reauthorizing NCLB too.
Yes you read that right. The nations teachers union, instead of calling for repealing the law, they too want to re-authorize it in their way.
Their recent e-mail to teachers referenced the Senate version of NCLB however many of the problems in the House version, continue in the Senate version too.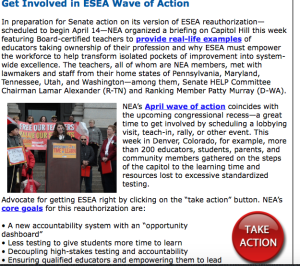 No where does the NEA call for accountability to PARENTS. Right now this accountability scheme is to bureaucrats.
No where do they call for the repeal of NCLB. They simply want to re-work it and pass it.
We'd like to see Governor Bush and the NEA to start putting parents back in control of their local schools. NCLB and the current proposed legislation continue to leave parents out.
Teachers and parents are fed up with the over-reach by the federal government into our schools. We do not need an out-of-touch Governor and the union leadership joining together in an effort to re-authorize legislation that continues to cut parents out of the picture.